Each morning while at Grandma Ganus' house I would quickly dress, straighten the homemade quilt on the bed and then head down the narrow hall, past the kitchen to the small living room to find Grandma. Simply furnished, the small house bore the product of her handiwork. Embroidered linens dressed her dining room table and buffet, handmade quilts covered her beds and crocheted doilies and afghans adorned the arms and backs of upholstered furniture.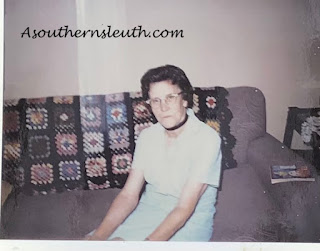 I could always find Grandma peacefully sitting and gazing out the large front room window that faced main street. It was a small sleepy rural town in Southern Colorado, with very little traffic and I always wondered what held her interest.
Years later as I looked through photos of grandma's younger years, I wondered if perhaps she wasn't looking out the window to see what was happening as much as she was remembering things that had happened. Perhaps she was reliving a time when as a young, carefree girl she had worked, worshipped and played in Sanford, Colorado, her home town.
Looking through a photo album that contained her pictures, I realized how little I really knew about Grandma and I struggled to imagine the young girl labeled in the photos as Hazel Mickelsen. The pictures revealed a young girl who at one time had been rather tall and lively in direct contrast to the small, thin, and quiet grandma I had always known. I wished I could return to a time when she was living and ask her to tell me the stories of the life she lived.
My grandma, Hazel Mickelsen, was born and raised in Sanford, Colorado to Ramus Mickelsen and Elsie Marie Cornum, both full Danish. Sanford was small with a post office, gas station and small little grocery store on one side of main and a large LDS church on the other side.
Most of the homes were modest and had provided shelter for many generations. Small irrigation ditches ran alongside many of the roads as a source of water for the lawns and gardens.
As a teen, Hazel attended Sanford High School, which was only a two-year school at that time. Following high school, Grandma attended the San Luis Academy in Manassa.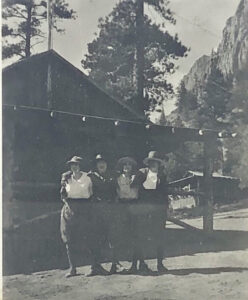 Once she completed her schooling, Hazel cleaned people's homes during the cool months for a time, but her summer employment was a bit more fun. Along with some of her friends, Hazel waitressed at the Rainbow Trout Lodge that sat on the banks of the beautiful Conejos River. There they served wealthy tourists that came from all over. Hazel became friends with many of those tourists who stayed in touch with her long after they returned home.
Apparently, that was a fun time for Grandma as she has numerous photo albums filled with photos of the friends she met while working there. Some of the photos were men and were sent after they had returned home. It was a side I had never suspected of the quiet woman I called Grandma.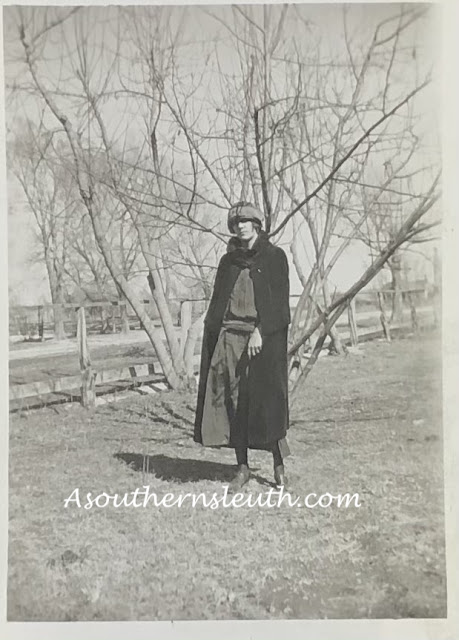 Of that time, Hazel said,
"Some evenings there would be an orchestra come and the guests would have a gay time, of course we hired help weren't invited but we girls could hear their laughs from our quarters. Two other girls from home were with me at the lodge. They were Eva Beck and Ruth Valentine. We all had some good times together. Some times the wanglers would get some real tame horses and we all would go for a horse back ride. The wages were $1.00 a day with board and room. We girls each slept in small tents, called 'Pup Tents.'  These were all in a row on a platform. We would raise the sides up and visit with one another until we fell asleep. The guests were good at tipping so we made pretty good wages." (3)
Between her salary and tips, she was able to earn enough money to buy new clothes and pay tuition for nine months of schooling and so she was off on an adventure to Denver where she attended  Barnes' business college. It was quite a big step for a small town girl.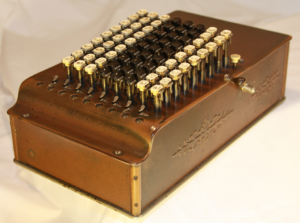 The commercial schools often recruited young girls like Hazel. There, in addition to sharpening her mathematical skills, Hazel worked hard learning to operate a comptometer, an early version of a commercial calculator. (1) She was excited when she passed her final exam and was ready to move on to the next phase of her life, which she hoped would include a job at a bank.
Unfortunately, Hazel learned that most banks were looking for someone with experience, experience she didn't yet have.
Discouraged but still determined to find something she enjoyed doing, she decided to go to summer school at Adams State or Normal as it was called, located in nearby Alamosa.
Once again she worked hard in her classes, completed the requirements and then took the teacher's exam from the county school superintendent. She was then able to get a teaching job at nearby Capulin where she taught third and fourth grade. While teaching there, grandma lived in what was called a teachery with other teachers.
Grandma decided she needed a car In order to go home on weekends. She had enough set aside to buy a second-hand Model T Ford Coupe.
The following year she got a better job with more pay at a larger school at Los Mesitas, which was west of Antonito. The school had five teachers.
About that time, Hazel said,
"In the fall when the weather was nice we often cooked out over a camp fire, cooking baked potatoes and corn on the cob in the husks in the hot ashes from the fire. These tasted so good."
Hazel not only worked hard, she played hard too, and had a lot of fun with her sister and friends.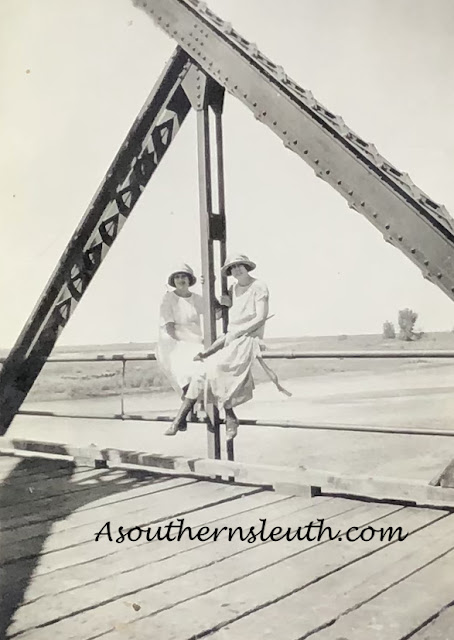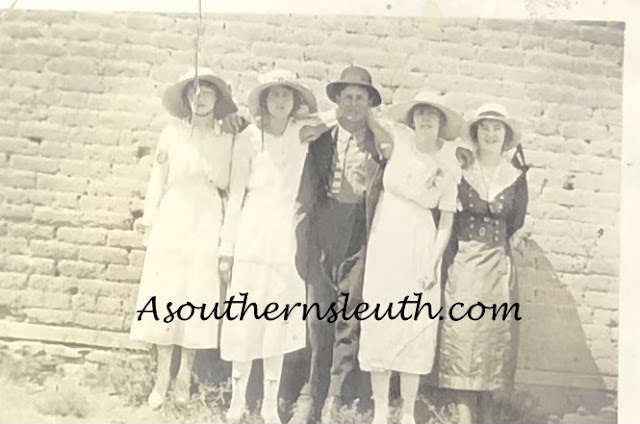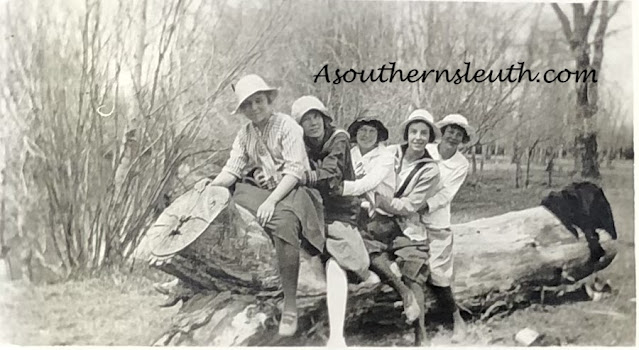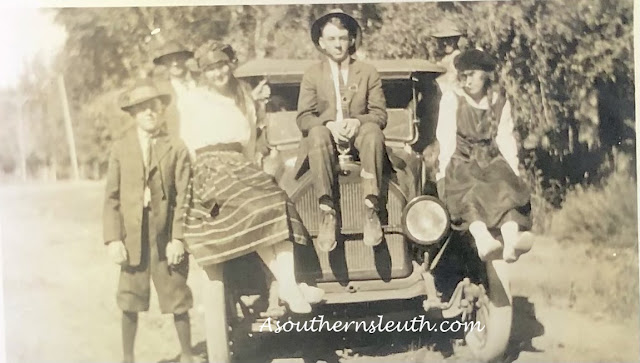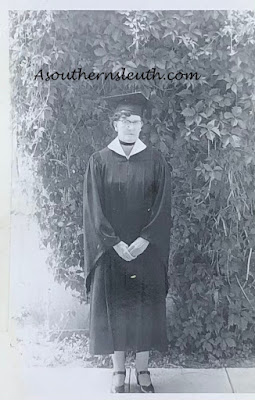 While teaching in Los Mesitas, Hazel met Heber Monroe Ganus and on a cold January day in 1926, they married.
This began a new chapter in Hazel's life. Their union was blessed with two children and Hazel set aside her teaching career and turned her focus to raising a family.
Over the years, Heber's health declined and it became necessary for Hazel to become the primary breadwinner. Grandma returned to school and completed her college education in 1955, allowing her to teach in public schools.
Although Grandma didn't raise her family in the little home on main, it was in that small town that she grew up and developed friendships that continued into her later years. Whether she was daydreaming about earlier times or things to come, I will never know, but I will forever picture her sitting and gazing out the window and wish  that I had asked a few more questions.
To learn more about Hazel's life, see the following blog posts:
A Poor Sustitute for a Sandwich
Pull up a Chair and Sit a Spell
(1) Photo of 1921 Model T Coupe Don O'Brien from Piketon, Ohio, United States Creative Commons https://commons.wikimedia.org/wiki/File:1921_Ford_Model_T_Coupe_(7273284910).jpg
(2) photo of comptometer from Wikimedia in public domain. Released by Ezdr.
(3) Page 10 of 18 in Hazel M. Ganus Life History.
Copyright © Michelle Ganus Taggart 2022, All rights reserved.
No use without permission