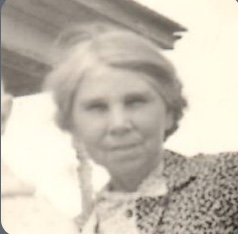 It was a cool December day in Okmulgee, Oklahoma and Christmas was just weeks away. Life had slowed over the years for 88-year-old widowed Minnie (Ganus) Robertson, yet she continued to live a full life, busying herself with her four daughters, eleven grandchildren, and the blessing of many great-grandchildren and great-great-grandchildren. In addition, she enjoyed the friendships she had with other women in the Royal Neighbors of America club1 and her membership in the First Baptist church.
Although she was well acquainted with loss, Minnie would never forget the seventh of December 1971. While still processing the news she had received earlier that day, Minnie received yet more shocking news. Just 18 hours after her younger brother, Sterling died, her brother Elvin passed away. In a matter of 18 hours, Minnie had become the sole surviving child of John Thackason Ganus and Mary Chisenhall.
Fifteen years older than Elvin and eight years older than Sterling, she had likely anticipated passing before they did. She was the fourth of 11 children and had managed to outlive them all. Six of her siblings had not survived to adulthood. At the time of her brothers' death, she had been a widow for five years.
The following appeared in the newspaper and tells the story:
BROTHER FOLLOWS ELDER IN DEATH 18 HOURS LATER
"Sterling R. Ganus, 79, and his brother, *Alvin M. 73, both of Sacramento, died within 18 hours of each other at the same hospital after the younger brother suffered a stroke while making funeral arrangements for his older brother.
Joint services will be conducted for the brothers at 2 p.m. Friday in the Sacramento Memorial Lawn Mortuary, 6100 Stockton Blvd.
Sterling died at 2 a.m. Sunday. Alvin suffered a stroke at the mortuary and was pronounced dead at 9:40 p.m. that day in the same hospital where his older brother had been a patient. 2"
Little did Elvin know when we went to the funeral home that day to make arrangements for Sterling's funeral, that the funeral arrangements would become his own as well.
Truth can truly be stranger than fiction.
*Article should indicate that Elvin had died, not Alvin.
"Mrs. Robertson Hostess For Neighbors," Okmulgee Daily Times, page 3; 06 Nov 1973, accessed 18 Jan. 2023 on Newspapers.com
"Brother Follows Elder in Deat 18 Hours Later" The Sacramento Bee, page 21, 07 Dec 1971, accessed 18 Jan 2023 on Newspapers.com
Copyright © Michelle Ganus Taggart 2023, All rights reserved.
No use without permission
Please follow and like us: