Burton  W. Cook feels like an old friend to me. Thanks to his appearance in a wide variety of records, I have learned so much about him over the years about he and his wife Mary Ganus and their life together. So I was excited to visit his grave during my visit to Georgia in October. 

Although Find-A-Grave has pictures of his headstone, seeing it in person was a completely different experience. Burton and Mary (Ganus) Cook lived just a short distance out of Carrollton and he was buried at the Church of Carrollton Cemetery. There I felt a reverence as I envisioned his family gathered there to mourn his passing. 

At the time of his death, his oldest son, Isaiah, and his oldest daughter, Elizabeth (Cook) Adams were living in Alabama. His daughter Mollie McKissack had remarried following the death of her first husband and she and husband James L. McKissack lived twenty miles away in Franklin, Heard Co., Georgia. Burton's namesake, Burton Calloway Cook was living in Carrollton at the time. 

According to the newspaper, seventy-year-old Burton suffered a "stroke of paralysis" on Friday the 26th of January 1894 and died the following Tuesday. (1.) 

Were his children notified and were they able to visit him before he passed away? Were they there as a support to their mother the day that Burton was buried?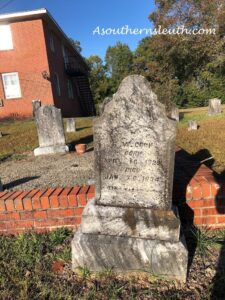 Burton Cook's headstone
Church at Carrollton Cemetery, Carroll County, Georgia 
Burton married Mary Ganus, my third great aunt on 7 April 1850 in Dekalb County, Georgia. Mary was the oldest child of James Ganus and Elizabeth McCluskey. There is no record of Mary's burial, but at The Church at Carrollton Cemetery, there is an empty space right next to Burton's and I wondered if possibly she was there in an unmarked grave?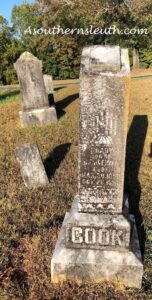 Grady Cook, grandson of Burton and Mary (Ganus) Cook
Church at Carrollton Cemetery, Carroll County, Georgia
Near Burton's grave is their grandson's headstone, Grady Cook, son of Burton C. and Emma (Muse) Cook. 

I've researched and written about Burton quite a bit over the years and those posts can be found on this blog. Documents helped me to know that Burton lived a full life and his obituary helped fill in the gaps, indicating that he had been a good man and was loved by the community. The following  obituary appeared in the newspaper:
IN MEMORY OF BURTON W. COOK

"The subject of this notice was born in Coweta county in April 1829 and departed this life at his home in Carroll county on the 30th day of January 1894, aged 64 years, 9 months and 14 days. 
"He was married to Mary Ganus in 1850, united with the Baptist church while in the army in 1862, and cast his lot with the church at Shadner afterwards, moved his membership to Sardus church Coweta county, moved to Carroll county and united with the church at Abilene on the 5th day of June 1880, where he remained a consistent member until called away. 
 "Bro. Cook was a good man and was loved by all who knew him. Always ready to give counsel to those who he thought needed it, always ready to assist those who were in distress, always tried to visit the sick and administer to their wants and do all that he could to console them. His seat was seldom vacant at church when he was able to go. He has said for many years that he was ready to quit the walks of men when it was the will of the Lord to call him away.
"Therefore be it resolved; That in the death of Bro Cook the county has lost one of her best citizens, the church one of its brightest jewels, his companion and children a loving and affectionate husband and father."
(2.)

After many years of research, the icing on the cake was visiting Burton's final resting place. 
Are you a descendant of Burton W. Cook? I would love to hear from you. If you would like to know more about my research on Burton or have information to share with me, please contact me at shelltag1 at gmail.com. 


1. Carroll Free Press, Feb 2, 1894, page 3, Accessed on Galileo West Georgia Newspapers, 9 August 2018.

2. Carroll Free Press, Feb 9, 1894, page 3, accessed on Galileo West Georgia Newspapers on 9 August 2018


Copyright © Michelle Ganus Taggart 2020, All rights reserved. 
  No use without permission 
Please follow and like us: