As he stood before the court, Roderick solemnly confirmed that Sally Ganus had died March 17th, 1909 in Muskogee, Oklahoma where she and her sons were living at the time. Frank, who was Sally's husband, was also Roderick's brother and had passed away 3 years earlier, leaving Sally, a widow, alone to care for their three young sons. But now she too was gone, leaving their three boys orphaned. Roderick told the court that yes, he was willing to take in Ernest, 16 years old, and the 8-year-old twins, Orson and Heber.
It could not have been easy to add three additional children to feed, especially since they were young boys, who always seem to have voracious appetites. Without a doubt, Roderick and Carrie had talked through the fact that not only did Roderick make very little as a pumper in the oil fields, but their rented home was small and already crowded with their two young children, four-year-old John William and two-year-old Bertha. In addition, Roderick had taken in his thirty-eight-year-old brother Newton who had never married and was unable to live on his own.
This was Roderick's pattern. Throughout his married life, he made room in his home for others who needed help and a place to stay.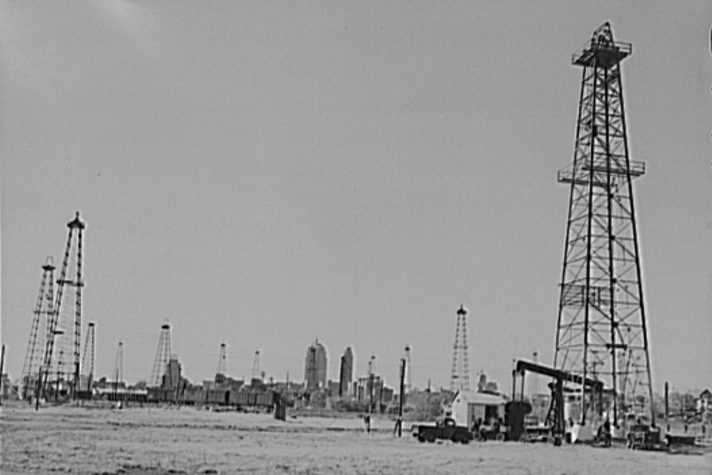 By 1930 Roderick was no longer working in the oil fields but had returned to what he knew best, farming. Roderick had grown up working on the family farm, side by side with his father, John Monroe Ganus, and his brothers, Frank, John, Newton and Robert. Although Ernest, Orson and Heber had returned to Colorado to live with their mother's family, Roderick and Carrie had added other family members in their home. This time it was his daughter-in-law Thelma and his newly-born grandson, Carl.
Even as the United States began the downward spiral into the years known as the great depression and as people struggled to provide the bare necessities for their families, Roderick made room in their small home for others. Nearly 90 years later, Carl would write about that time:
"The house that Roderick and family lived in was small, just 4 rooms. I don't understand how so many people were able to live in such a small house. As I remember, it was such a beautiful place, surrounded by large oak trees and several small buildings, such as a tool house and a vacant building everyone called the bunk house. I suspect that sometime in the past this bunkhouse may have been housing for oil field workers. I would describe this home place as a beautiful, peaceful but lonely place."
Carl gave further insight into life during that time in his writings:
"Their water supply was from a well about one mile further back into the woods near a small creek. They would go to the well and fill wooden barrels with water hand drawn by buckets from the well. The barrels were then dragged from the well to the house on a sled pulled by a horse. Grandpa's brother Newton had this job. As some of you know, Newton had a mental problem, and once he came to the house with empty barrels and grandpa wanted an explanation. Uncle Newton told my grandpa that on his way back with the filled barrels that a voice told him to dump the water from the barrels. Grandpa told Newton to go back and refill the barrels and if the voice told him to again dump the barrels then Newton should tell the voice to 'go to h__.'"
January 1932 was a wet month. According to a newspaper report, on Monday, January 4th, they had such heavy rain, the streets flooded and water flowed over the sidewalks. The rain gauge registered 2.42 inches of rain in just 24 hours. Okmulgee lake had already risen two feet prior to that additional rain and threatened to flow over the spillway. 1 It was a day that left a deep impression on Carl, who so loved his Grandpa. Carl shared the following memory as seen through the eyes of a young boy:
"I was born in mid-1929 and my grandfather died about 3 years later. But believe it or not I do have spotty memories of him. For example, I remember him and me sitting on a porch swing and we were talking. I also remember the day that he died; it had been raining for days and the creek was flooding making it almost impossible to reach my grandfather who was laying dead. My father crossed and re-crossed the creek on a swinging bridge just above the raging waters carrying grandpa on his shoulders. I remember that but I do not remember the funeral."
Family stories indicate that he died of a stroke.
His obituary read:
"Brother Roderick Monroe Ganus was born at Cedartown, Georgia, June 23rd, 1863 and departed this life on January 4th, 1932 at his home near Morris Oklahoma, age 68 years, 6 months and 11 days, after an illness of only a few hours.
"He was married to Miss Carris Davis, of Hanceville, Alabama, in Okmulgee, Oklahoma Jan 26th 1904. To this union were born five children four boys and one girl, Mrs. Bertha Chappel of Morris, Oklahoma; John Howard, Loid and Emmitt all of Morris, Okla. He also leaves two brothers, Mr. N. L. Ganus of Okmulgee, Okla., and R. L. Ganus of Okmulgee. And Many other relatives and friends both in Georgia and Oklahoma.
"Brother Ganus united with the Church of the Latter Day Saints while a boy in his youth, in the state of Georgia and has remained a member of the same since that time.
"Brother Ganus has lived for about 20 years in the community 7 miles south east of Morris, where he was widely known throughout Okmulgee County. He was an upright and worthy citizen and loved and respected by those who knew him. His being translated into the new life will leave a vacant place not only in the hearts of loved ones but in his wide circle of friends and neighbors, whose prayer will be today:
"'God grant that all who watch today Besides their sepulchers of loss, May find the great stone rolled away, May see at last, with a vision clear, The shining angels standing near, And through the dimly-lighted soul Again May joy's evangel roll The flory of the Cross.'
"The funeral services were held at the Methodist Church on Jan. 5th, 1932 in Morris, Oklahoma, the pastor of the church, Rev. Alva R. Hutchinson, preaching the funeral. Alva R. Hutchinson, Paster." 2
As the skies wept that day, so did the Ganus family at the loss of Roderick who had always had room in his heart and his home for all who needed it.
Okmulgee Daily Times, 5 Jan 1932, Tue, page 1 , Gateway to Oklahoma History, OK Digital Newspapers
The Morris News, 7 Jan 1832 Thu Page 1, accessed on Newspapers.com
Copyright © Michelle Ganus Taggart 2023, All rights reserved.
No use without permission
NoCopyright © Michelle Ganus Taggart 2023, All rights reserved.
without permission
Please follow and like us: