Piece by piece, the things that only months earlier had been belonged to her and her husband were sold. Trunks, tables, chests, secretary, clocks, nine lots of books, and much more were removed from their home and her life. (1)

Matilda's husband Josiah Goggans had done well in his 74 years of life and so they had lived comfortably. But at the age of 54, Matilda (Rainwater) Goggans found herself a widow and facing a new chapter in her life.

Josiah Joseph Goggans passed on the 8th of August 1875 and was laid to rest in the Goggans family cemetery not far from where they lived. Was it Matilda's idea to bury him next to his first wife or did it come at the insistence of his children? Years later when Matilda passed, she would be buried in the Bethany Baptist Cemetery some distance away.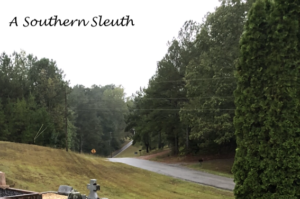 The road leading to Bethany Baptist Church where
the Rainwaters and Goggans attended

Only fifteen years earlier, on June 14, 1860, 38-year-old Matilda Rainwater married Josiah Goggans. Josiah was a widower 20 years her senior, so it was safe to assume that she would outlive him. However, for a woman who did not marry until later in life, and who had never had children, spending the last 29 years of her life alone was an additional sorrow for her.

When Matilda married Josiah, she instantly became a part of a well-established family because Josiah and his first wife had nine children together. Josiah was a well-known member of the community and made his living as a farmer and owner of a local store.

I can't help but wonder what challenges Matilda faced as all tried to adjust to her new role as Josiah's wife and as the step-mother to his children. Some of his oldest children were only a couple of years younger than Matilda and were raising their own families. However, his youngest three children were still at home when Josiah and Matilda married. When a couple of years later, the Civil War broke out, Josiah's youngest sons, Jasper and Carey marched off to war and neither ever returned home. There was little opportunity to develop a motherly type relationship with his adult children and it appears from the probate records, they felt little obligation to help support her at Josiah's death.

Despite the fact that Josiah "departed this life possessed of a large estate of both real and personal property," the year following his death presented many challenges for Matilda.

According to court documents, Josiah left a will naming Matilda as the executrix, and that will was presented to the court, but unfortunately, there were problems as stated by his children. (3)

The court documents show that Josiah's children claimed that he didn't have title to the property he willed, and prior to his death, that he had stated that he was opposed to his will and wanted to change it. In addition, they indicated that he had not signed the will in the presence of witnesses and that Josiah didn't see the witnesses sign. Finally, the documents stated:
"That said Will is illegal and unatural in- That it – prohibith the wife and widow of any dower in said estate." (2)
And what was the outcome?
That the will was "set aside and made void on the grounds that it is impossible to carry said will into effect on the grounds that the property had been set apart as a homestead and there being no other property only that set apart as a homestead out of which to pay the legatees named in the will."
Matilda then petitioned the court for a suitable allowance to be set apart from the estate for a 12 months' support for her.

At the sale of Josiah's property, the majority of the furniture and farm implements were purchased by immediate and extended family members. Matilda's only purchases, however, were 1 sow, 1 pigg (sic), and 3 shoats, which are baby pigs.

Although it had been an estate of considerable size, there were debts to be paid, and two years later, the land on which she and Josiah had lived was sold.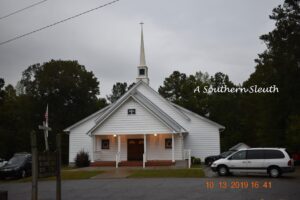 Bethany Baptist Church, Haralson County, Georgia

At this point in her life, Matilda was more alone than she had ever been before. She lived at home with her parents for most of her life until after her mother's death and then she and her aging father, Joshua, lived with her brother John and his wife up until her marriage. But her father, along with both brothers had gone to Texas years prior to Josiah's passing.

Despite the desperate appearance of her situation, records show that Matilda lived in a home that she owned free of a mortgage. In terms of emotional support, for a time George Goggans, a 61-year-old widower and relative of Josiah's lived with her as a border, her sister Frances Bailey lived next door and Matilda remained in the community where she had lived for much of her life. (4)
For the next 29 years, Matilda managed to support herself presumably by farming as indicated in the 1900 census. When in 1904, she passed away at the age of 83, she was laid to rest in the cemetery beside Bethany Baptist Church where she had attended church as a child with her family and with Josiah.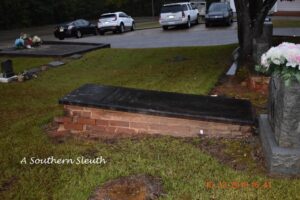 Matilda Rainwater Goggans tombstone
Bethany Baptist Cemetery
Haralson County, Georgia


It was there, in the Bethany Baptist Cemetery that I found Matilda and it was there that I became intrigued by her life and the circumstances of her death. How did a woman who farmed right up to the end of her life and who didn't have children, pay for one of the largest tombstones in the cemetery? And assuming she didn't, who did? Josiah's headstone in the Goggans cemetery was small and quite primitive in comparison, so it seems unlikely that his children provided it for Matilda.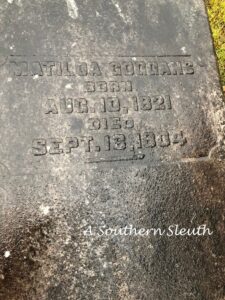 Matilda Rainwater Goggans

Although Matilda's only living family members at the time of her death were her sister Frances who lived nearby and her brother Abner, who lived in Texas, it is unlikely, given the financial circumstances of either, that they paid for her tombstone.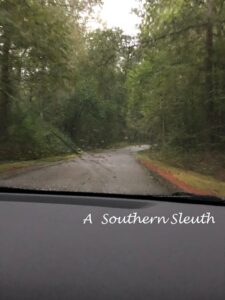 The road to Bethany Baptist Cemetery

As I stood there in the cemetery, surrounded by the beauty of the area and recognizing many of the names of members of the community, it wasn't hard to imagine why she stayed, but I wish I knew more of her story.

I do know she was a strong woman who withstood many challenges during her life. She had to be industrious and frugal. She must have developed some strong relationships over her life to people who felt some devotion after her death.

But I do wonder, who felt it was important to memorialize her with such a significant tombstone? Who knew enough to provide the exact dates of her birth and death?
Sadly, without descendants to tell her story, I likely will never know.
Copyright © Michelle G. Taggart 2020, All rights reserved.
No use without permission.
1. Georgia, Wills and Probate Records, 1742, 1992 for Josiah Goggans, Haralson County, Unbound Estate Case Files, 1850-1950, Garrett, E. F. – Goldin James L Accessed on Ancestry.com. Image 898
2. Ibid. image 876
3. Ibid. image 885
4. 1880 US Federal Census M. D. 1078, Newnan, Haralson County, Georgia, 4 June 1880, stamped page 341. Accessed on Ancestry.com.
Please follow and like us: