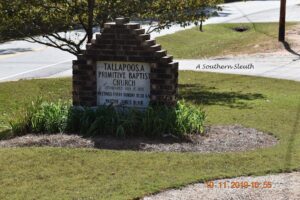 Deep down inside, I knew, so I shouldn't have been disappointed, yet you know how it is when a little part of you hopes against hope that something is different than you've been told.

In this case, I hoped that when I visited the Tallapoosa Primitive Church Cemetery in Carrollton, Georgia, I would notice something that others had managed to overlook, maybe a marker back in the trees or a simple stone with a marking on it or something partially covered with the earth. I really wasn't sure, but I so wanted to know for sure where Addison Gainus' exact final resting place was, yet deep down inside, I knew it was not marked just as I had been told.

While other family members are buried there and their resting place is well marked, records for the small Tallapoosa Primitive Church Cemetery do not include Addison and Sally (Bowen) Gainus. Other extended family members have visited that cemetery over the years and they warned me that there are no markers for Addison or Sallie, but I had to see for myself.

Addison Gainus was the youngest brother of my second great grandfather, John Monroe Ganus and the youngest child of James (Gur)Ganus and Elizabeth (McCluskey). Note that he was among those who spelled the last name as Gainus, while my line and a few other of the siblings spell the name simply Ganus without the "i".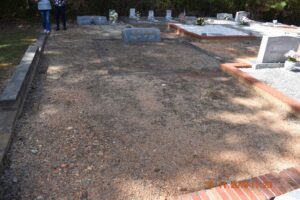 Empty spot behind the Tallapoosa Primitive Church
where it is believed Addison and Sallie could be buried.

So on my recent trip to Georgia, we visited the small Tallapoosa Primitive Church cemetery. As an added bonus, I was able to meet up with extended cousins and together we walked through the cemetery. They shared stories and experiences they had growing up in that small family community. They told me that in talking to others, it is believed that back behind the church, surrounded by other family headstones, a conspicuously empty space is likely their final resting place.

So why would I expect them to be there at all if there is no marker?
To begin with, Addison's death certificate indicates that he was buried at Tallapoosa Church and so does Sallie's.


Addison Gainus' death certificate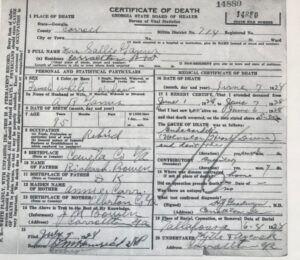 Sallie Gainus' death certificate
In addition, an obituary located in the Carroll Free Press, dated Thursday, December 8, 1927, also indicates that Add was buried there. It reads:
The Lee's Chapel community was made sad Saturday by the death of one of its oldest and most esteemed citizens Uncle Add Gainus.
Funeral Services were conducted by his friend and neighbor Rev. T. A. Bonner and his body was laid to rest in the cemetery at Tallapoosa church Sunday afternoon.
Just six months later, Add's wife, Sallie, joined him. Her obituary appeared June 14, 1928, in the Carroll Free Press and is as follows:
Mrs. Sallie Ganus, age 85, died last Friday the 8th instant, near Carrollton on R. F. D. No. 8. Her funeral was held on the 9t at Tallapoosa church, conducted by Rev. Mr. Hanks. Interment was in the church cemetery beside her husband who died since Christmas.
Everything points to the Tallapoosa Primitive Church cemetery.

Although there aren't any known pictures of Addison and Sally, I feel that I can almost picture them.

Addison Ganus, son of John Monroe Gainus and Sarah Bowen, daughter of Richard Bowen and Annie Carr were married 20 September 1866 in Coweta, Georgia. They lived near Addison's family in Fayette County, but then later moved to Carrollton, Carroll County, Georgia by 1900. There they lived in a three-room shotgun style house, had a small farm and raised chickens and cows. Addison's sister Rebecca and her husband Samuel Solomon Lee and their children lived nearby, as did Addison's sister Martha and her husband William C. Brock and their children.

The story is told that Addison and Sallie had a love/hate relationship with the cows. Sallie loved the cows and apparently, the cows felt the same about her and allowed her to milk them. However, if anyone else tried to milk them, they ran away. Perhaps the cows knew how Addison felt about them because nothing seemed to get his ire more than discovering when he went to get them in the evenings that they had gone home with someone else's cows. Known for his "high temper," anyone close by could hear Add yelling at his cows to get back home!

A humorous story is recorded by those who knew Add. The story is about his grand-nephew and namesake, Add Lee. Add Lee had a pair of white overalls that Add Gainus just hated and he made sure Add Lee knew it. One day when Add Lee's overall were hanging out to dry on the clothesline, they disappeared. Although others tried to help Add Lee find them, they were nowhere to be found. Next spring when the stables were cleaned out and the manure taken from the barn and spread out on the fields for fertilizer, the overalls were discovered, buried deep in the manure in the barn. Although it was impossible to prove, everyone had their suspicions on how they got there.

Add and Sallie grew tobacco and smoked it in corncob pipes. Visitors to their home were intrigued by Sallie and the long thin cane stemmed pipe which she smoked.

Add and Sally Gainus were never able to have children, and they took two Chance boys into their home and raised them as their own.

Carrollton was Sallie and Addison's home. It was in Carrollton that they lived, raised children, socialized with their siblings, and attended church and it makes total sense that it is there in Carrollton that they were finally laid to rest. It only seems to reason that just like their death certificates and obituaries indicate, that Sallie was buried beside Addison there at the Tallapoosa Primitive Church.

Despite the fact others had told me there was no marker for them there, I still needed to visit the cemetery and see for myself. And, while it was disappointing to not miraculously stumble onto something no one else had seen, I loved my visit to the cemetery filled with other ancestor's graves and I left, convinced like others have been, that although there is no marker, given the other evidence, Addison and Sallie really are there.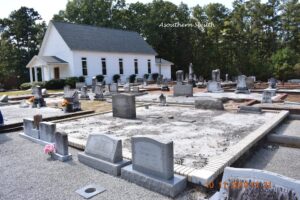 Tallapoosa Primitive Church and cemetery





Copyright © Michelle G. Taggart 2020, All rights reserved


Please follow and like us: