It's no small secret that this final post in the series about John Monroe Ganus' life is long past due. I could blame the delay on my recent move, on some challenging family circumstances or countless other things, and although those things have undoubtedly played a part, the truth of the matter is, I've struggled to know how to bring it all to a close. If you missed the beginning of John's story, you will want to go back and read it beginning with this post.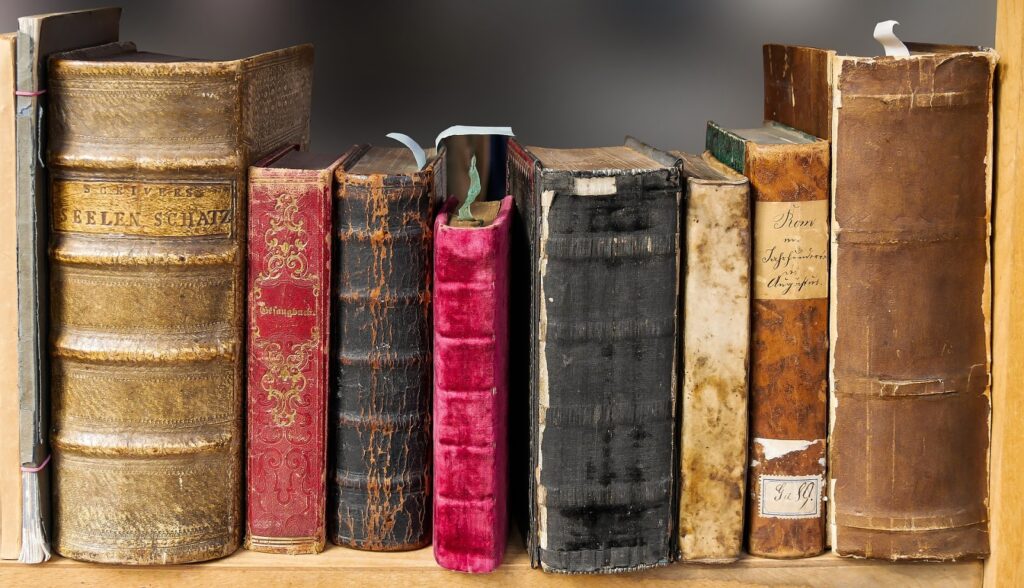 Up to this point, land records, newspapers, US. Population Censuses, Agricultural Censuses, journals of LDS missionaries and LDS church membership records have provided me with details and insight into John's life. I had hoped to end his life story with the same level of detail. But sadly, after John's move to Colorado, the sources began to dwindle.
What I do know is that the Ganus family remained in Colorado until about 1894, and then they once again packed up and moved. A move was never a cheap or easy endeavor and yet, despite the difficulties and just short of being 70 years old, John, along with his family made the roughly 690 mile trip from Manassa, Colorado to Indian Territory, now known as Oklahoma.
Indian Territory in the mid to late 1890's posed many challenges. Lack of good medical care, the difficulty in growing gardens and crops, in addition to the challenge of finding adequate housing meant many families lived in shacks and sod houses while having to go without. Most frontier towns had more saloons than churches and outlaws roamed the countryside.
Availability of land enticed many folks to move to Indian Territory and yet I find no evidence that any member of the Ganus family acquired land there in the early days. They arrived well after the initial Land Run of 1889 and no record has been found to show that they obtained land in any of the later runs.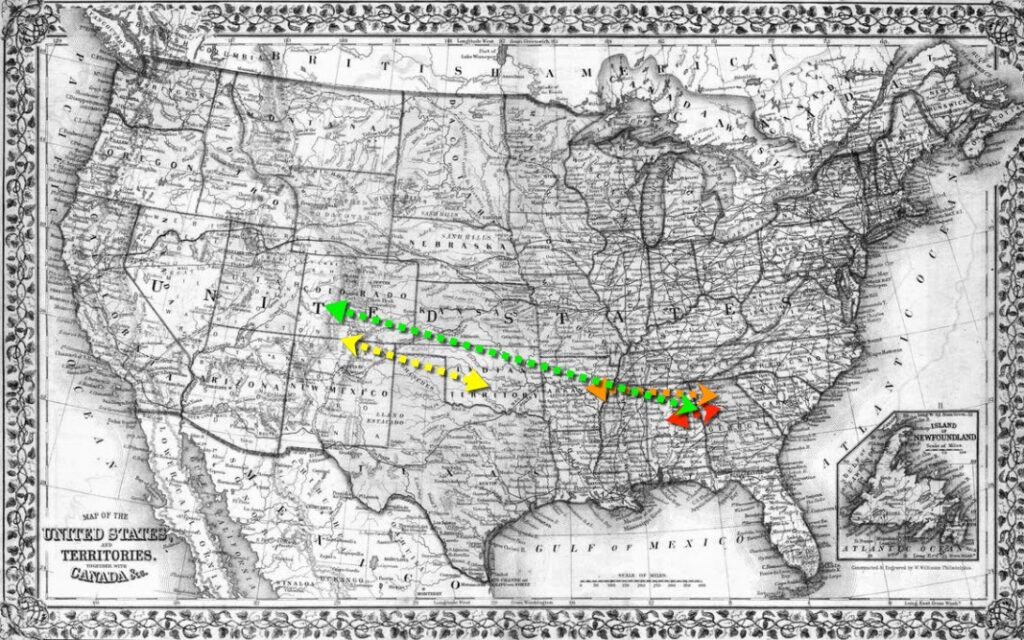 John's moves: Red, Georgia to Alabama in early 1860s, Orange, Georgia to Arkansas late 1860s.
Green, Georgia to Colorado 1887, Yellow, Colorado to Oklahoma late 1890s.
Not only is it difficult to understand why they moved to Indian Territory, it is equally difficult to fathom why they were willing to leave Colorado.
Leaving Colorado meant leaving behind their homes as well as an established community of other southerners and other members of their church. Some of their neighbors in Manassa had traveled with them when they left Georgia in 1886. The Ganus family also left behind the graves of their tender young grandchildren who had died much too young.
Given the challenges of moving yet once again, I can only assume their decision to leave was mulled over for some time and discussed at length among their sons and their families.
This would be John and Olivia's final move. Roughly six years later on the windswept plains of Oklahoma, Olivia passed away on 12 September 1902 at 71 years. John would live another four years, dying on 9 April 1906 at the age of 79.
After a lifetime of looking to their father for direction and guidance, the five brothers would be left to stand on their own. The oldest son, Frank was only 54 years old when he passed away a few months after his father, John. Frank's wife, Sarah was only 45 years old when she followed three years later and so Frank and Sarah's sons were sent to back to Colorado to be raised by Sarah's brothers. The other four Ganus brothers, John, Roderick, Newton and Robert, remained in Oklahoma, and all but Newton, who never married, raised their families there.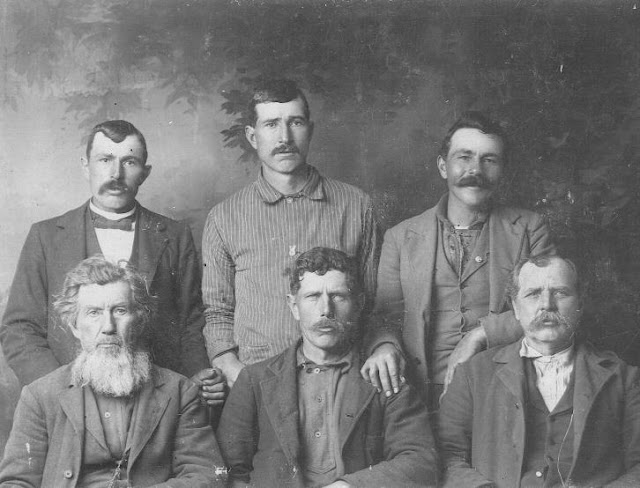 TR-L: Robert Lee Ganus, Roderick Monroe Ganus, Newton Lafayette Ganus
BR-L: John Monroe Ganus, John Thackason Ganus, William Franklin Ganus
I often study this picture of John and his sons and wonder what they would tell me if they could. Taken in Indian Territory, my guess is that the photo was taken sometime between Olivia's death in 1902 and John's death in 1906. Although I understand that photography was different in those days, I can't help but think they look a little tired, perhaps a little worn by years of difficult and trying experiences. Newton in the top right of the photo is the one exception. Although he wears a smile, I suspect the smile had more to do with the head injury he sustained as a child and less about his view on life.
Although I have learned a great deal about John over the years, there remain many questions. Why didn't John enlist in the Civil War along with his brothers and brothers-in-law? Why did he move to Arkansas for a few short years following the Civil War? Why did John listen to the LDS missionaries when so many would not? Why did he openly allow the Mormon missionaries to have cottage meetings in his home in Georgia and share what little he had with them when he obviously had so little and the risks were so great?
As I look at John's life, I see a man who sacrificed much and took many risks for what he believed. I see a man who established such strong family ties with his sons that the extended family remained together through the hardest of times and through many moves. I see a man who made difficult choices and wasn't afraid of change. I've been blessed by his choices and am grateful for his sacrifices and through many years of research, I am grateful to feel I've come a little closer to becoming acquainted with my second great-grandfather, John Monroe Ganus.
Copyright © Michelle G. Taggart 2018, All rights reserved
Please follow and like us: