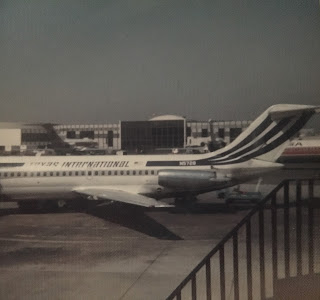 The plane we took from LAX to Lubbock, Texas
June 19, 1974
As I stepped out of the airport I was hit by a blast of hot air. I did a quick 360 and immediately realized that things looked about the same at ground level as they had from the air. We had landed in Lubbock, Texas and although I hadn't been sure what to expect as we left California, I had not envisioned miles of flat sandy terrain, dotted with oil wells. With a rock in my gut, I climbed into the back seat of the rental car and my family, consisting my parents, two brothers and me, began the 109 mile trip to our motel. As I looked out the car window my stomach sank as I viewed what would soon become our home.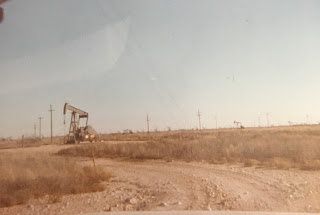 Outside of Denver City, Texas 
When our plane left LAX a few hours earlier, I knew my life was about to change dramatically, but at the time I really had no idea how different the climate and culture of West Texas was to my native California. I would soon learn they really had little in common.

Gone were lazy days at the beach, frequent visits to Disneyland and of course I would no longer see my large group of friends. Although I knew I would form new friendships and find new things to do, my life would be very different from the life I had known. 

I have reflected on that life-changing move many times over the years. The pull for my family was a great opportunity for my father to advance with the Shell Oil Company. As a 15-year-old teenager, I had begrudgingly accepted that fact, knowing it would severely cut into my fun. Little did I realize just how many life lessons I would learn in that little West Texas town or how much I would draw on those lessons throughout my life.

Many of my ancestors also made major moves during their lifetime. In some cases, I have been able to discover the "push" or "pull" that motivated them to move, but for others, those reasons are still to be discovered.

In November of 1886, John Monroe Ganus, his wife, Olivia (Rainwater) and their five sons, along with their spouses and grandchildren boarded a train and left their native state of Georgia and made the long 1,479 mile trip to Manassa, Colorado. John and Olivia were my second great grandparents and that move forever affected not only their lives but also the lives of all of the generations that followed, including mine. Unlike so many of the moves during that time, that move was not motivated by the quest for better land, for work or enticement by other family members. Please join me over the next little while as I focus on John Monroe Ganus, his life and the events that led up to this life-altering move.
Copyright © Michelle G. Taggart 2017, All rights reserved
Please follow and like us: