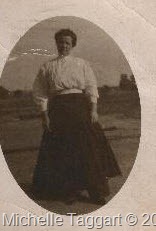 Mr. Earnest Ganus
Dear brother, I wright you a few lines to let you know we are well . hope it will find you the same . . . . Say why did you never wright to me. I waited to here from you. but you did not wright. So wright soon. Please wright to me. I have still got feelings for you. From Ollie Howell to Earnest.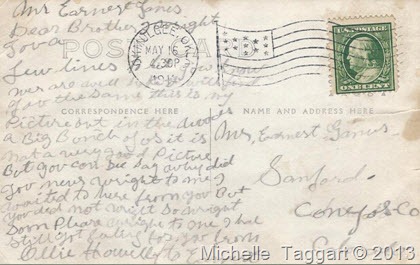 The sweet pleading of a sister longing to hear from her brother are both tender and sad. I found this postcard among a few papers in a small fabric suitcase that I received from my Grandma Ganus and that I mentioned in an earlier post. Perplexed and intrigued by the postcard, I found myself reading the message over and over, hoping to see some sort of clue, all the while wondering who in the world was Ollie Howell? Ollie had referred to Earnest as Dear Brother! If Ollie was a sister to Earnest, then she certainly was a sister to Earnest's brother, my Grandpa Heber Ganus as well!! I was not aware that my grandfather had had a sister by the name of Ollie. So who was she? As I looked over the list of my Grandpa Ganus' siblings, I saw only one sister, and that was Blanche who had died in 1891 when she was about seven months old. So I called my father but he echoed my confusion—he had no idea who Ollie was either!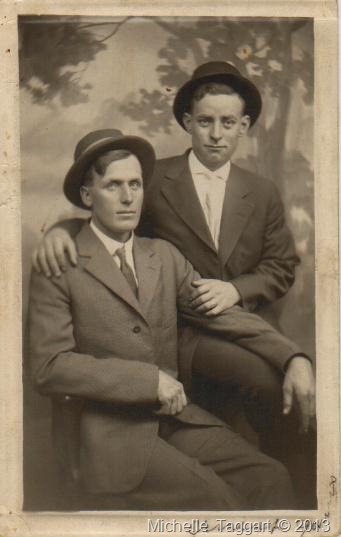 Apparently there were a few details missing from what we knew about my grandfather and his family, and so I launched into a search to find out who the mystery sister was. It amazed me that my grandfather had never mentioned a sister.
As is always the case, it took time and effort to search through a variety of records and piece together Ollie's story, but eventually I was able to find her place in my family tree.
I learned that my Great Grandfather, William Franklin Ganus (Frank) had been married twice and I descend from his second wife. My family really knew nothing about the first marriage and so nothing about that family had been shared. Frank had first married Mary Matilda Roberts (Tilda) in about 1879 in Georgia. To this union were born two girls, Martha Oliva Ganus (Ollie) who was born September 23, 1880 and Mary E. Ganus who was born December 5, 1881, both in Polk County, Georgia. While I found mention of Mary E. Ganus on church blessing records, I could find nothing further about her, leading me to believe that she must have died as a child. It is so inconvenient when people are born and die between census records! Neither Tilda nor Mary E. were included on the list of those that migrated along with the Ganus family in 1886 to Southern Colorado. ( I shared the story of their migration in an earlier post. ) I was able to find Frank and daughter, Ollie, in Manassa, Colorado church records confirming that they had both made the trip along with other members of the Ganus family. Wanting to find out more about Tilda, I returned to the church membership records for Polk County, Georgia and examined them carefully once again . It was then that I discovered very faint writing in the far right hand edge of the margin beside Tilda's name indicating that she had died, although no year was included.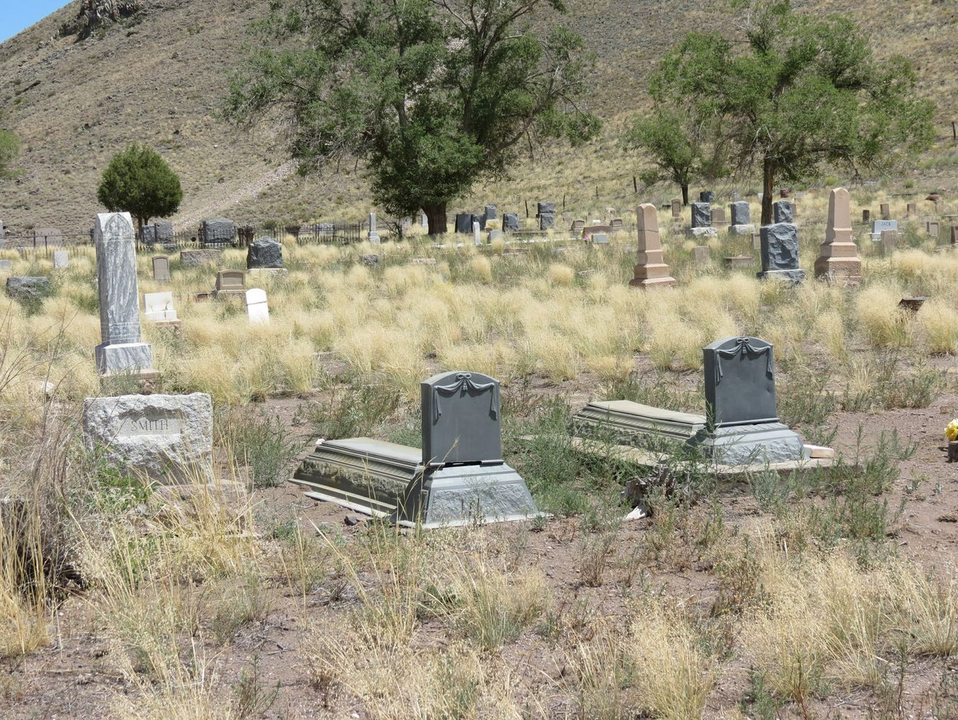 So at the tender young age of 6, and without her mother, Ollie had traveled to Colorado with her father, Frank, and her grandparents and uncles. I wonder what she felt as she boarded the train bound for Colorado. A year later in 1887, Ollie gained a stepmother when her father, Frank married Sarah E.Faucett (Sallie), who was my great grandmother . Soon Frank and Sallie began to have children and Ollie was no longer an only child. Ollie's life continued to have many challenges. Sally and Frank's first child, Parley, died when he was a year old, the second child, Blanche, died at seven months and Homer died when he was around five. Last August, I was able to visit the cemetery in Manassa Colorado where two of their three children were buried and I wrote about that experience here. Of Sally and Frank's first four children, only Earnest survived to adulthood and while he and half sibling, Ollie, were 13 years apart in age and had different mothers, they apparently felt a closeness that would continue into adulthood. Surely they needed each other as their little family dealt with the heartbreak of death. I can envision Ollie and Earnest in that small country cemetery, standing beside their parents and mourning the loss of each sibling.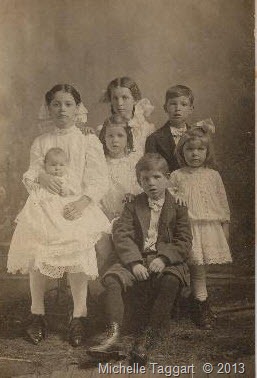 About 1895, Frank, Sally, Ollie and brother Earnest along with Frank's parents John M. Ganus and Olivia, as well as Frank's brothers, all moved to Oklahoma. Family lore says it was just too darn cold in the high San Luis Valley for the Ganus family and so they moved to a warmer climate. The following year on March 16, 1896, at the age of 16, Ollie Ganus married Henry Edgar Howell in Muskogee, Oklahoma. Four years later in 1900, my grandfather Heber Monroe and his twin, Orson Merrit were born and so Ollie gained two more half brothers, however they never lived in the same household because she was married by then. That, along with the fact that there was twenty years difference in their ages may explain why my grandpa had never mentioned Ollie.
In 1902, Ollie's grandmother, Olivia Rainwater Ganus passed away in Okmulgee, Oklahoma at the age of 71. Ollie's grandfather, John Monroe Ganus lived another four years and died in April of 1906 at the age of 80. Ollie's father, Frank followed, dying in November of that same year at the age of 53. Then, less than three years later, in 1909, Ollie's stepmother, Sally died, leaving her three young sons, Earnest, Orson and Heber, orphaned. After a short period of time, all three boys were sent from Muskogee, Oklahoma to Sanford, Colorado to live with Sally's brother. Ollie was then separated from her half brothers by 760 miles, no small distance in 1909. Having been married for nearly 13 years by that time, Ollie had six children of her own to care for and undoubtedly her hands were full. Ollie would have one more child before she passed away in 1916.
Martha Olivia Ganus Howell, or Ollie as she was called, died at 36 years of age. She experienced more grief in her relatively short life than some ever experience. She had lost her mother, her father, her stepmother, a sister, a half sister, two half brothers, and both sets of grandparents. Is it any wonder that she reached out across the miles to a remaining brother, wanting him to know that she still thought of him and that she still had feelings for him? Is it any wonder that she longed to hear from him and to feel the reassurance that she was still remembered and loved by him as well?
As I looked at the date stamped on the postcard, I realized that Ollie penned her message to her brother in 1914, just two years before she too passed away. I sincerely hope that his heart felt the same need to in turn reach out to her and that he responded to her plea to "write soon please."
Copyright © Michelle G. Taggart 2013
Please follow and like us: