The timing could not have been worse.  As I answered the phone and learned that my Grandma Ganus had died, my heart dropped. The sadness of loosing her was compounded by the fact that I was expecting our third child any day and would not be able to travel the nearly 800 miles to attend her funeral and say goodbye.  Although for a second I was tempted to make the trip, I knew better, and in the end, it was a good thing because I delivered our baby the very next day.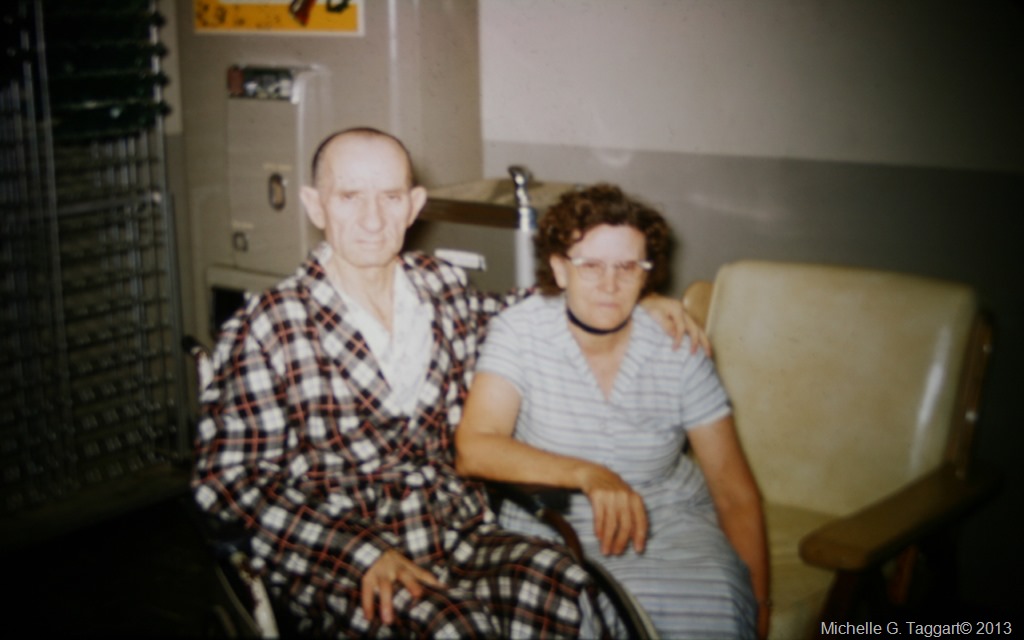 I remember that achy, sad feeling that came over me as I realized that she was really gone. I would never again visit her in her little house in Colorado. We wouldn't ever have her fried chicken or lemon pie again. My Grandpa Ganus had died 21 years earlier and so, while I was sure that Grandma was ready to go, I was equally sure that we were not quite ready to give her up just yet.
A few months later, as my father and his sister cleaned out Grandma's house, they called me and asked me if there was anything that I wanted. I did not hesitate for even a second. I wanted the mule train. The mule train had been in Grandma's house for long as I could remember and I had always loved it.
While growing up we had lived some distance from my grandparents and so we would generally visit yearly. On those visits, I remember so clearly walking through her house and just looking. I would look at her buffet in the dining room and her dishes. I would look at her Nick-knacks that she had collected over the years and the family pictures, along with all of the other little familiar things that defined Grandma's home. I was always so glad to be there.
Without a doubt, my favorite of Grandma's treasures was the model mule train. Although it was positioned high above a door way so that I could not inspect it closely, I had never seen anything like it and it had always intrigued me. In addition, I knew at least some of the story and that story made me feel close to Grandpa who had died when I was just a little girl.
While living in Colorado, Grandpa was diagnosed with emphysema. As the illness progressed, it was difficult for him to breath in the high San Luis Valley, and so Grandpa went to stay with his brother, Ernest, in Oklahoma hoping that the lower elevation would help. Grandma was teaching school and so remained for a time in Colorado. The lower altitude did help, so Grandma joined Grandpa in Oklahoma where they lived nearly ten years. It was while Grandpa was ill and living in Oklahoma that he built the mule train.
While Grandma and Grandpa had initially moved to Okmulgee, Grandma later got a job teaching in Supulpa, so they loaded up their car and moved there. For the move, the wagon train was placed in the back window of their car in the sweltering hot days before air conditioning. It was there that the wagons were melted by the hot Oklahoma sun. I wonder if Grandpa felt a pang of disappointment when he discovered how the sun had warped the side of the wagons?
I was thrilled when my dad delivered the mule train to me.  I could not believe that I was lucky enough to actually become its new owner.  I remember inspecting it carefully and crying as I thought of Grandpa building the wagon train and of Grandma keeping it all those many years.  And then I saw it.  Rolled up and laying in the back of the last wagon was a little piece of paper.  As I carefully unrolled the paper, I discovered the names of the mules written in Grandpa's own hand!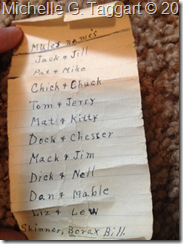 Mule's names
Jack & Jill
Pat & Mike
Chick & Chuck
Tom & Jerry
Mat & Kitty
Dock & Chester
Mack & Jim
Dick & Nell
Dan & Mable
Liz & Lew
Skinner, Borax Bill
We have moved several times since that day, but I have always carefully chosen a special place in my home for my cherished treasure.   I am sure that when Grandpa built that wagon train more than fifty years ago, he had no idea that someday it would be a source of great joy and serve as a link between him and  his only grand daughter.
Copyright © Michelle G. Taggart 2013
Please follow and like us: