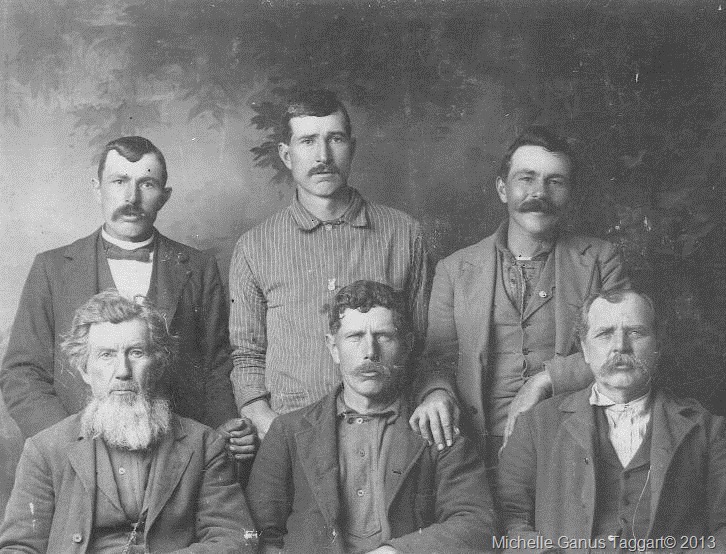 As much as I love the stories that I uncover, I think I almost love the pictures more. I find myself sitting and studying my ancestors' pictures and wondering what stories their faces tell? What do their eyes say? What caused that wrinkle in their brow? What does the way they hold their mouth and their hands tell me about their life and what they were like? It's all speculative, but it's a game I like to play.
I particularly love it when someone shares a story to go with a picture. Such is the case of the picture of John and "his boys" shown above. I can't help but notice that Roderick (center back) obviously had his own ideas about how to dress for a picture. Story has it that while his father, John, and his brothers put on their "Sunday best" for the picture, Roderick had been working in the field and said that he was not going to spend half the day dressing and undressing for a picture, so he came as he was. The story makes me smile and reminds me that that ole Ganus spunk had trickled down through yet another generation.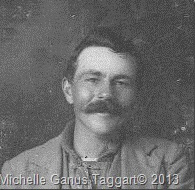 When my father first shared this picture with me, I noticed that while five of the men wore the typical solemn expressions, one son seemed not to care about how long he had to wait for the camera, nor whether the social norm dictated that a proper picture be taken in a somber manner and devoid of a smile. Newton's smile stretched from his lips to his eyes and seeing that solitary smile among the six men never fails to make me smile. When I show this picture to others, they are often quick to point to him and say things such as "He looks like fun." The truth be known, Newton had experienced more than his share of heartache, but for some reason, he broke tradition, smiled for the camera and made us all want to know more about him.
Newton Lafayette Ganus and his twin, Frances Olivia Ganus, were born the 17th of July, 1867 in Pine Bluff, Jefferson, Arkansas to John Monroe Ganus and Olivia Rainwater. I am not sure how long Frances lived, but I do know that she had died by 1870 when the family returned to Haralson County, Georgia. The Ganus family would remain there until November of 1886, at which time they migrated by train to Colorado. Later, in about 1897, the Ganus family moved on to Oklahoma where John, Olivia and all of the sons lived until they died.
Not much is known about Newton's childhood although most of his siblings' descendants were told the story that when Newton was a child, he was kicked in the head by a mule. In addition, all seemed to have been told that he was very smart when it came to math. We do know that Newton never married and that he lived with his parents until their death, at which time, his married brothers took him in. But life with Newton was not easy and it became more trying with time. Among other issues, Newton had bouts with terrible headaches and when he did, he became angry and was difficult to deal with.
On August 30, 1921, at the age of 54, Newton was taken to the Eastern Oklahoma State Hospital for the mentally ill at Vinita and examined by Dr. Hayes along with two other doctors. Prior to that time, Newton had spent a year in Fort Supply, which was the first mental hospital in Oklahoma. His brother, Robert, felt concerned enough about Newton's mental state that he had traveled a little over 100 miles from his home in Okmulgee to take him to the hospital in Vinita, which was no small distance at that time.
When examined by the doctors there, Newton was asked if his mind was as good as any body else's and he responded that he did not know. According to records, Newton said, "Seems like my head hurts me right smart. I don't know what causes it." Newton also indicated that he did not believe that his "mind would be as good and stout as one not in any misery." When asked why he had been sent there, he said, "For bad behavior I reckon." The doctor then asked Newton if he had been bad and Newton indicated, "Not bad, I don't think, just this misery and anger like I cursed a little but I don't think I done bad."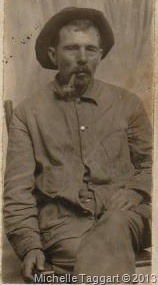 The doctors asked Newton a variety of other questions, including a series of mathematical questions. Newton responded correctly to questions such as "if he received .125 cents an hour and worked 8 hours, how much would he have?" It is interesting that he was able to answer correctly every mathematical question asked, yet his history indicated that he only had a 1st grade education. By his responses to other questions, some of which were quite basic, Newton seemed to sometimes be a little confused and forgetful and yet his responses did not appear to be very far out of the ordinary. I wonder what additional information may have been supplied by Newton's brothers? With all three doctors in agreement, Newton was admitted and for the next 32 years, the hospital was his home.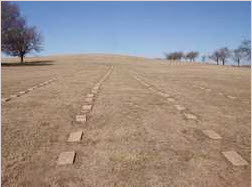 On December 19, 1953, at the age of 86, Newton died of chronic myocarditis in Eastern Oklahoma State Hospital.  He was buried among countless other hospital patients on the hospital ground cemetery.  Confined for much of his adult life in the hospital, Newton had managed to outlive all of his brothers and died without any descendants of his own.  I find myself wondering just how he spent his final days? Did he have any visitors?   Did he have friends?  Did anyone weep when he was gone? 
I have one additional picture of Newton and this time he is alone. While I can't be sure, I suspect from his clothing and his age that it was likely taken in the hospital. This picture is a stark contrast to his picture from earlier days where he is seen smiling alongside his father and brothers. In fact, the first time I came across this picture, I was surprised to flip it over and read that it was in fact Newton. As with most of us, he had changed a lot over the years. This picture shows an older, thinner Newton, a Newton that no longer felt compelled to smile for the camera. This time his face tells a different story, a story that I wish had had a happier ending.
Copyright © Michelle G. Taggart 2013
Please follow and like us: