It's been interesting to note which posts on my blog have the most visitors. Heads and tails above the rest, my three part series about the arrest and trial of Marion Gurganus, a moonshiner, which I shared in February 2013, continues to be the most popular. I too was intrigued by the details of the story and equally interested in what I learned about moonshining in the south. You can find part 1 of that series here, but be sure and read all three posts to get the complete story.
Recently I received an email from a new found cousin, Betty Wedgeworth. She shared the picture below of the Gurganus family which includes several of the individuals mentioned in the moonshining story and graciously consented to allow me to share the photo on my blog. Thank you Betty for not only sharing the picture with me, but also for identifying each family member!
The picture was taken about three years before the events that occurred in the story.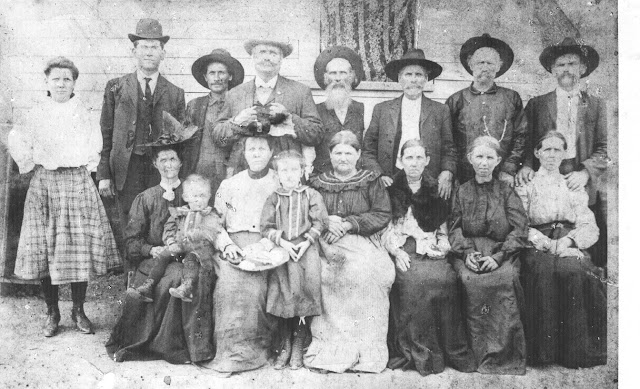 GURGANUS FAMILY 1907
Back: Bertie Gurganus, W.P. Gurganus, Marion Gurganus, Isaac Wilson Gurganus, William Zachary Gurganus, John Gurganus, James Samuel Gurganus, Joseph Jasper Gurganus
Front: Melissa Johnston Gurganus, Cary, Ludie Thompson Gurganus, Belle Waller Gurganus, Sarah Gurganus Dunn, Amanda Evans Gurganus (my great grandmother), Rene Odum Gurganus, Susan Odum Gurganus (1907, Oakman, AL)
****James Gurganus b. 1798 and my third great grandfather was a brother to John Wesley Gurganus  b. 1806. John Wesley Gurganus was Marion Gurganus's (shown above) grandfather.
Copyright © Michelle G. Taggart 2016, All rights reserved
Please follow and like us: